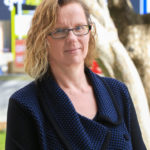 ---
When Rachael was last a judge for us in 2015, she was the Manager, Publishing and Websites for the Auditor-General. Since then, she has extended her evil influence. She's now managing the whole comms team. That largely means smiling and praising, because she thinks the team does a superb job.
Rachael has been adding to the clarity of the Auditor-General's reports for more than 13 years. Back in 2015, Rachael admitted that also being responsible for the Auditor-General's blog made it easier to get her own work-related posts published.
In July 2017, she has no time to write any. But that's okay, because others have joined in and the pool of staff bloggers is steadily growing. And it's time to tackle the clarity of the speeches and presentations…
Rachael's Master's with Honours degree in sociology is still, as far as she knows, sitting at the bottom of a hallway cupboard.
---