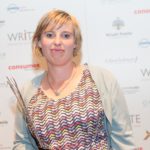 ---
Application Support Analyst at Synlait Milk and President of the Technical Communicators Association of New Zealand (TechCommNZ)
I'm delighted and excited to judge the Best Plain English Turnaround category at the 2017 Plain English Awards. I've had an interest in the Awards since 2009, when a website I was involved in was a finalist, and my workmates and I travelled up to Wellington for the ceremony (we didn't win but we had a great time!). In 2010, I entered the Best Plain English Technical Communicator Award and won it. In 2015, I won the award again.
I love that the Awards give individuals and organisations the opportunity to showcase their talents and get recognition for their hard work. Plain English is so important, and it's essential that we spread the word.
As a technical communicator of over 10 years, plain English is hugely important to me. I currently work as an Application Support Analyst at Synlait Milk Ltd (near Christchurch), where I help support applications such as our ERP system. In my job I do a lot of writing, but also related tasks such as training, configuration, content strategy, and testing.
In my previous role I worked for Streamliners, doing contract technical communication for a wide variety of industries and projects. I do love to work on software projects, especially if I get the chance to learn something new.
I have recently taken over the role of President of TechCommNZ and presented at the recent TechCommNZ conference. I'm looking forward to seeing all the great entries in this category. Best of luck to everyone who has entered this year!
---
2017 Plain English Awards judges